| | | | | | | | | | | | | | | |
| --- | --- | --- | --- | --- | --- | --- | --- | --- | --- | --- | --- | --- | --- | --- |
| | Gallery | | | | | HISTORY, Governance, Sewa, Aims & More | | | | Vishesh | KIRTAN | e - Pooja Online | | |
श्री राधे राधे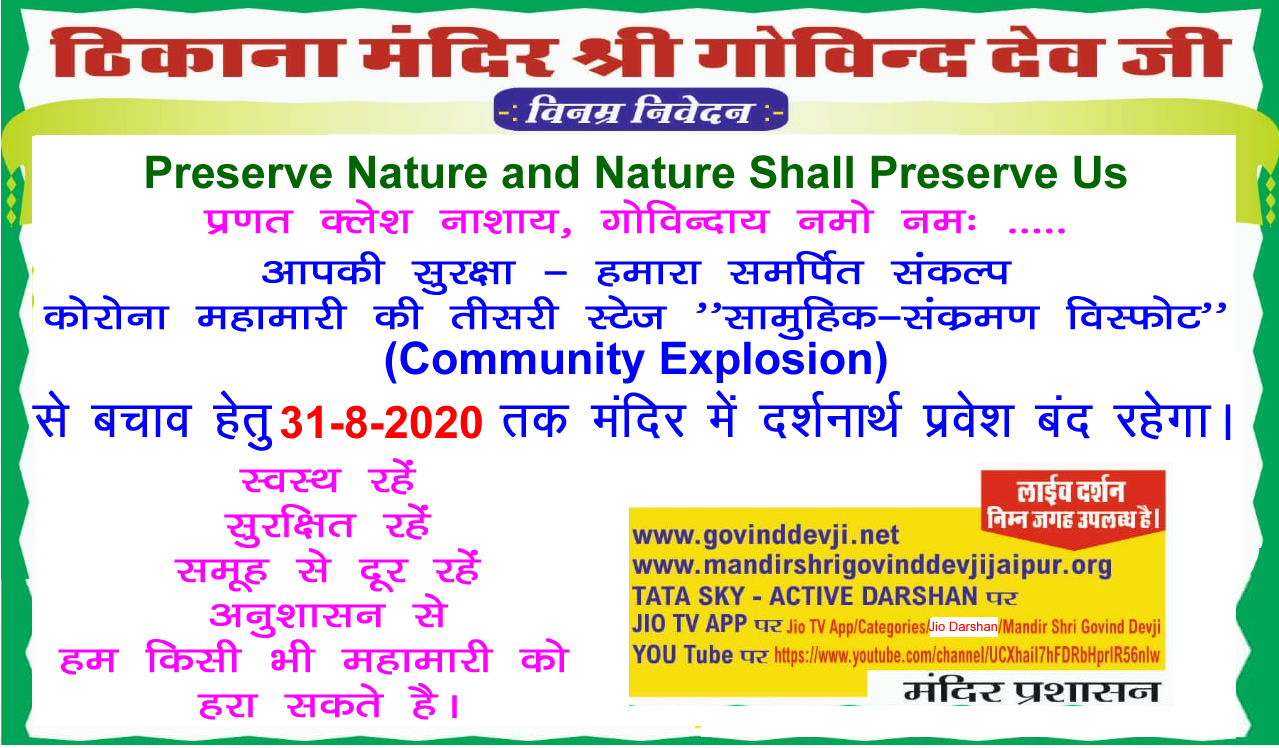 Site is Best Viewed in Internet Explorer - All Audios and Videos shall prove a Feast to Ears and Eyes
परित्राणाय साधूनां विनाशाय च दुष्कृताम्‌ धर्मसंस्थापनार्थाय सम्भवामि युगे युगे
अनन्याश्चिन्तयन्तो मां ये जना: पर्युपासते | तेषां नित्याभियुक्तानां योगक्षेमं वहाम्यहम्.....
Twitter

JioTV













YOU MAY DONATE ONLINE Directly TO The Following Bank Accounts:

"Mandir Shree Govind Devji
Bank A/c No. 30318566632


IFSC Code :SBIN0031032

"Mandir Shree Govind Devji
A/c.No. 02891450000222
IFSC Code :HDFC0000289"

To get daily updates and to remain in regular touch, Kindly like the face book page at


https://www.facebook.com/GOVINDDEVJU

~:Time Table from 10-3-2020 to 25-7-2020:~

Navratra Sthapna - 25-3-2020 RAM Navmi - 2-4-2020
Akshaya Tritiya - 26-4-2020
| | | | | | | |
| --- | --- | --- | --- | --- | --- | --- |
| Mangla | Dhoop | Shringar | Rajbhog | Gwal | Sandhya | Shayan |
| | | | | | | |
| --- | --- | --- | --- | --- | --- | --- |
| 4:45 to 5:15 | 7:45 to 9:00 | 9:30 to 10:15 | 11:00 to 11:30 | 17:15 to 17:45 | 18:15 to 19:30 | 20:30 to 21:00 |



FOR LIVE DARSHAN ON MOBILE Kindly

APPEAL

Kindly Do Not Give Money,
Gift Or Otherwise Oblige Any Temple Employee
In Expectation of Any Extra Favour From Them.
Selfless Discharge Of Duty
Comes To Their Service Commitment.
Temple Administration

With ourFolded Hands, We Do Express our acknowledgements & gratitude to one & all, known & unknown whose work, contribution, effort or anything whatsoever,
in our knowledge or without our knowledge has made a part & parcel of this site!
May Thakur Shri Radha-Govinddevji Maharaj Bless each one of them !!

| | | | |
| --- | --- | --- | --- |
| | The RED STONE HISTORICAL TEMPLE OF GOVIND DEVJI In VRINDAVAN with its Archaeological Significance. It came up during the reign of King Emperor Akbar in the year 1590 | | |


THIS MAJESTIC ORIGINAL SHRI-VIGRAHA (HOLY IDOL) OF VRINDA DEVIJI
IS THE ONE AFTER WHICH VRINDAVAN GAINED IT's NAME AND IS
BELIEVED TO BLESS THE DEVOTEES WITH THE INGENUOUS (INBORN) FAVOUR OF LORD GOVIND!
While going to or coming from GIRRAJJI via Bharatpur, this place is on midway.
जो प्रभु-अनुरागी श्री गिर्राजजी (Govardhanji) के दर्शन अथवा परिक्रमा हेतु जाते हैं
वे मार्ग में कामाँ में रुक कर वृंदा देवी के इस पवित्र मूल विग्रह का दर्शन लाभ प्राप्त कर अपना पुण्य द्विगुणित करें !
| | | | | | | | | | | | | |
| --- | --- | --- | --- | --- | --- | --- | --- | --- | --- | --- | --- | --- |
| | Gallery | | | History, Governance, Sewa, Aims & More | | | | Vishesh | WORLD RECORD | KIRITAN | e - Pooja Online | |
~:ADVANCE Time Table from 10-3-2020 to 25-7-2020:~
| | | | | | | |
| --- | --- | --- | --- | --- | --- | --- |
| Mangla | Dhoop | Shringar | Rajbhog | Gwal | Sandhya | Shayan |
| | | | | | | |
| --- | --- | --- | --- | --- | --- | --- |
| 4:45 to 5:15 | 7:45 to 9:00 | 9:30 to 10:15 | 11:00 to 11:30 | 17:15 to 17:45 | 18:15 to 19:30 | 20:30 to 21:00 |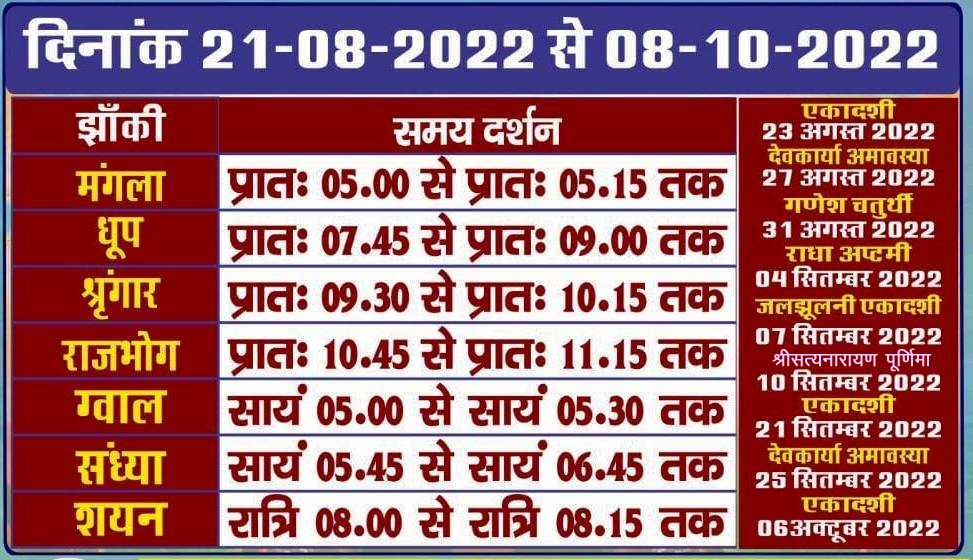 Free JavaScript from 
Rainbow Arch